Gandía beach is one of the favourite beaches for Spaniards, but do you know why? What does Gandía beach have that other beaches don't? What services does it offer? Gandía has more than 7 km of beach divided into several parts. The main beach is the north beach (Platja nord), where most of the beach flats and hotels are located. The beach is more than 3 kilometres long with fine, clean sand. The location could not be better. During the summer months sun and good weather are almost guaranteed.
Here 👇, you will find information about all the beaches in Gandía. There is a naturalistic beach, an artificial beach, a tourist beach and much more. The beach is very popular with families and groups of friends especially during the summer (both residents and tourists).
👉 Nord Beach
The north beach of Gandía is one of the best known and most visited beaches in Gandía, a long, beautiful beach of fine sand, with a long promenade, which has all the services imaginable. At its southern end is located the Nautical Club and fishing port of the city; there is no lack of maritime transport activity either.
Characteristics of Gandía Nord beach
As we said before, the fine white sandy beach is very well maintained. It is a destination with recognised quality and environmental seals. It is worth noting that there are not many beaches that meet all these standards and receive so many awards and quality certificates that make it the main beach of La Safor. It is, on the other hand, the wide range of services that make this a very attractive beach.
Beach offer and services:
Sand sports (goals, basketball courts, volleyball nets, playgrounds).
Workshops.
Beach bars with public toilets.
Water sports.
Roller skate hire.
Sunshades and sun loungers for hire.
Showers and footbaths.
Free WIFI.
Car park.
Lifeguard
It also has a fantastic promenade that stretches from the Yacht Club to the end of the beach. In the evening you can stroll along the promenade enjoying the sea breeze, music, shops, restaurants, beach bars, etc. The promenade is made up of a section for pedestrians, another section with a cycle lane (cyclists and runners) and a landscaped area. Underneath the promenade you will find an underground car park open during the high season.
Rental rates Gandía Beach 2023
Sun loungers, chairs and parasols for hire. Nothing is free in this world. Not even relaxing. Although doing so on a beach in Valencia is, moreover, cheaper than in Alicante. Summer is here, and like every season, tourists flock to Gandía beach. Here are the prices you will have to pay if you want to enjoy a relaxing moment lying on your sun lounger.
➡️​ Parasols for rent in Gandía
Daily sunshade
Fortnightly sunshade
Monthly sunshade
➡️​ Hammocks for rent in Gandía
Daily hammock
Fortnightly hammock
Monthly hammock
➡️​ Chairs for rent in Gandía
Daily chair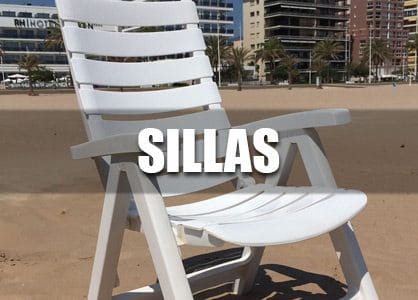 Fortnightly chair
Monthly chair
👉 Ahuir Beach
Ahuir beach is considered a strange beach as it does not follow the canons of a conventional beach on the Valencian coastline as it is not very urbanised and has large areas of dunes in the process of regeneration. On this somewhat secluded beach you will find fans of kitesurfing. The beach is suitable for nudists as it is an isolated and quiet beach. In order to preserve the dunes, wooden walkways have been built to give the beach a very natural look.
This beach has a series of characteristics that can make you decide to come to this beach:
Sandy beach.
Red cross.
Footbaths and showers.
Car park.
Lifeguard.
Nudist.
👉 Can Beach
📣 Update 01 January:
The Mayor of Gandía has announced that the Gandía dog beach will not be available this summer 2023. Apparently, as it was located in a protected area, it was not viable for dogs. See below for other alternatives to Gandía's dog beach.
Playa Can is currently one of the benchmarks in terms of dog beaches, where people and dogs coexist without major problems. Users can ask for poles to tie up their pets, and there is a dispenser of biodegradable bags for organic waste. The beach is only open during the summer months. Playa Can has lifeguards who will show you the rules of this beach.
Can beach in Cullera, near La Goleta
📢 It is not in the Brosquil as it has been removed. Be careful because they fine you if you go to the Brosquil.
It is located on the border of the municipality of Tavernes de la Valldigna, to the south of Cullera and after passing the mouth of the river. This dog beach does not have a car park as such, but it is possible to park in the vicinity of the beach.
Sea and Mountain Beach, Altea (Alicante)
It was inaugurated in 2016, being a small space to enjoy with our pet in Altea. This dog beach is located near the Villa Gadea urbanization in Altea, in the beach area between the port of "Mar y Montaña" and the reef in front of the "illeta". The best way to get there is to park your car in Villa Gadea or at the hotel.
How to get to the Dog Beach in Altea
If you go by car, the best option is to try to find parking at Villa Gadea, both in the hotel car park and on the way down to the estate, which has two small spaces set aside for parking. However, bear in mind that in summer, especially at peak times, it is not easy to find parking.
Dog Beach Rules
If you are going to access this beach you have to take into account that there are a series of rules that you must follow.
You must carry their vaccination records with you and keep them up to date.
Dogs are not allowed to run loose on the beach and must swim with their owners.
As on all beaches, a 6-metre zone on the shore must be respected.
Potentially Dangerous Dogs must wear a muzzle.
Finally, you must pick up any droppings your pet may leave on the sand.
👉 Venice Beach
The Venecia beach is located to the south of the port and at the mouth of the river Serpis, mixing fresh and salt water, which helps sport fishing and scuba diving. It is a small, quiet beach of fine sand surrounded by dunes with vegetation, protected from the waves and the north wind by the harbour wall.
Like all beaches, this one also has a series of characteristics that may make you choose this or other beaches.
Sandy beach.
Lifeguards.
Restaurants.
Bus.
Red Cross.
Footbaths and showers.
Car park.
👉 Rafalcaid Beach
Rafalcaid beach in Gandía is located to the south of the mouth of the river Serpis in an environment of old fishermen's huts. The accesses to the beach are marked by a line of small dunes flooded by Mediterranean vegetation.
Lifeguards.
Restaurants.
Fine sandy beach.
Red cross.
Footbaths and showers.
Car park.
Activities on Rafalcaid beach
Level of occupancy: Medium
Is it a nudist beach?: ❌ No
Recommended for surfing?: ❌ No
Is it recommended for scuba diving?: ❌ No
Is it possible to rent sunshades?: ❌ No
Is it possible to rent sunbeds: ❌ No
Rafalcaid facilities
Do you have toilets: ❌ No
Does it have showers? ✅ Yes
Do you have footbaths?: ❌ No