Gandía beach is one of the favorite beaches for Spaniards, but do you know why? What does Gandía beach have that other beaches don't have? What services does it offer? Gandía has more than 7 Km of beach divided into several parts. The main beach is the north beach (Platja nord), where most of the beach apartments and hotels are located. A beach of more than 3 kilometers long with fine and clean sand. The location could not be better. During the summer months the sun and good weather are almost guaranteed.
Discovering the Beaches of Gandia, Area by Area
The Beach of Gandia offers you an endless array of activities to enjoy: from spending a day at the famous Nord Beach, to exploring the natural beauty of L'Ahuir Beach, strolling along the Paseo Marítimo of Gandia Beach, or relaxing in its beach bars. Here, we present the most outstanding areas to make the most of your visit to Gandia Beach.
👉 Nord Beach
The Nord Beach in Gandía is one of the most well-known and visited beaches in Gandía, a long, beautiful beach with fine sand, featuring a long promenade and providing all imaginable services. At its southern end is located the Nautical Club and fishing port of the city; maritime transport activity is also present.
This beautiful and wide beach offers a complete range of services that justify its renowned Blue Flag status. These include showers, foot washing facilities, equipment for sports activities on the sand like goalposts and volleyball nets, play areas for children, several beach bars with public restrooms, options for renting water sports equipment, and the possibility to rent umbrellas, sun loungers, chairs, and more. Everything you need to enjoy a memorable vacation.
Photos of Nord Beach
Here we bring you some incredible photos of this little piece of paradise. Golden sands, cool waves, and a relaxing vibe.
Characteristics of Gandía Nord beach
As we said before, the beach of fine white sand is very well maintained. It is a destination with recognized quality and environmental seals. It should be noted that there are not many beaches that meet all these standards and receive so many awards and quality certificates that make it the main beach of the Safor. It is, on the other hand, the wide range of services that make this a very attractive beach.
Supply and services on the beach:
Sports in the sand (goals, basketball courts, volleyball nets, playgrounds).
Workshops.
Beach bars with public toilets.
Water sports.
Rental of skates.
Rental of umbrellas and sun loungers.
Showers and footbaths.
Free WIFI.
Parking.
Lifeguard.
Recognitions and Distinctions of Nord Beach in Gandia
Blue Flag: Nord Beach in Gandia stands out as the only one in Valencia that has maintained the Blue Flag for 36 consecutive years.
Q for Quality Tourism: Recognition for exceptional quality in tourism services.
S Flag for Sustainable Tourism: Awarded for sustainable tourism practices.
Safe Tourism Certification: Assurance of safe tourism standards.
Compliance with the EMAS Regulation: Adherence to the Eco-Management and Audit Scheme.
ISO Certifications: Various International Standards Organization certifications.
Specific Awards in Lifesaving and First Aid: Acknowledgment for excellence in safety and emergency response.
All these recognitions confirm the excellence of Nord Beach in Gandia and its prominent place in the tourist offerings of the Valencian Community.
The Paseo Marítimo of Nord Beach in Gandia
The Beach of Gandia is proud of its extensive promenade, stretching over 2 kilometers from the Nautical Club to the beginning of the beach's dune area. This scenic walkway, encompassing the entire beach, includes:
A pedestrian zone.
A bike lane.
Wide green areas.
Exploring it both during the day and at night offers a fascinating experience. A nighttime stroll is particularly recommended for enjoying the sea breeze, live music, shops, and restaurants offering exquisite local cuisine, among other attractions.
Photos of the Paseo Marítimo of Nord Beach in Gandia
We are thrilled to share our photo collection of the Paseo Marítimo of Nord Beach in Gandia. Capturing the special charm of this location, our photos showcase:
Stunning sea views.
Vibrant beach bars.
Each image reflects the joy, serenity, and incredible connection with nature and local culture. We hope you enjoy these images as much as we enjoyed capturing them.
Webcam at Nord Beach in Gandia
With this webcam at Nord Beach in Gandia, you can enjoy live views of Gandia Beach at any time of the day. Gandia Beach, a very popular destination on the Spanish coast for sun and sea lovers, is showcased in all its glory through this webcam. Want to know what the beach looks like today? The Gandia Beach webcam offers real-time images of the maritime and weather conditions. Additionally, you can observe the flag located on the beach, providing updated information on safety and bathing conditions.
This webcam is provided by ibericam.com.
Rental rates Gandía beach 2023
Sun loungers, chairs and umbrellas for rent. Nothing is free in this world. Not even relaxing. Although doing it on a beach in Valencia is, in addition to cheaper than in Alicante. Summer is here, and as every season tourists flock to the beach of Gandia. Here are the prices you will have to pay if you want to enjoy a relaxing moment lying on your sun lounger.
➡️​ Umbrellas for rent in Gandia
Daily umbrella
Umbrella fortnight
Monthly umbrella
➡️​ Hammocks for rent in Gandia
Daily hammock
Hammock fortnight
Monthly hammock
➡️​ Chairs for rent in Gandia
Daily chair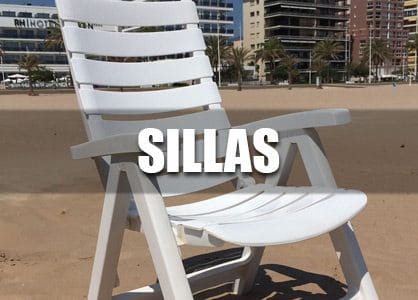 Chair fortnight
Monthly chair
👉 Ahuir Beach

Following the Nord Beach, with its impressive 3 kilometers in length and 300,000 square meters of soft sand, extends the idyllic L'Ahuir Beach. This beach, spanning another 2 kilometers, is a haven of peace with crystal-clear waters and white sand, ideal for nudism and water sports such as Kite Surfing.
Recognitions:
Blue Flag: This award ensures clean waters of excellent quality for bathing, efficient environmental management, lifesaving and surveillance services, accessibility, maintenance of cleanliness, and environmental education programs.
S Flag for Sustainable Tourism.
This beach has a series of characteristics that can make you decide to come to this beach:
Sandy beach.
Red cross.
Footbaths and showers.
Parking.
Lifeguard.
Nudist.
More Beaches in Gandia
In addition to the well-known Nord Beach and the tranquil virgin beach of L'Ahuir in Gandia, there are two additional beaches that tend to have fewer tourists: Rafalcaid Beach and Venecia Beach.
👉 Can Beach
Playa Can is currently one of the references in terms of dog beaches, where people and dogs coexist without major problems. Users can ask for poles to tie up their pets, and there is a dispenser of biodegradable bags for organic waste. The beach is only open during the summer months. Playa Can has lifeguards who will tell you the rules of this beach.
📣 Update January 01:
The Mayor of Gandía has announced that the canine beach of Gandía will not be available this summer 2023. Apparently, since it was located in a protected area, the presence of dogs was not viable. See below for other alternatives to Gandía's dog beach.
👉 Can de Cullera beach, near La Goleta
📢 It is not in the Brosquil since it was removed. Be careful because they fine if you go to the Brosquil.
It is located on the border of the municipality of Tavernes de la Valldigna, south of Cullera and after passing the mouth. This canine beach does not have a parking lot as such, but it is possible to park in the vicinity of the beach.
👉 Mar y Montaña Beach, Altea (Alicante)
It was inaugurated in 2016, being a small space to enjoy with our pet in Altea. This dog beach is located near the urbanization of Villa Gadea in Altea, in the beach area between the port of "Mar y Montaña" and the reef in front of the "illeta". To reach it, it is best to park your car in Villa Gadea or at the hotel.
How to get to the Dog Beach in Altea
If you go by car, the best option is to try to find parking at Villa Gadea, both in the hotel parking lot and on the way down to the estate, which has two small spaces set aside for parking. However, keep in mind that in summer, especially at peak times, it is not easy to find parking.
Dog Beach Rules
If you are going to access this beach you have to take into account that there are a series of rules that you must follow.
You must carry their vaccination records with you, and keep them updated.
Dogs cannot be loose on the beach and must swim with their owners.
It is necessary to respect, as in all the beaches, a zone of passage in the shore of 6 meters.
Potentially Dangerous Dogs must wear a muzzle.
And, finally, you have to pick up the droppings that your pet may leave on the sand.
👉 Venecia Beach
Venice beach is located south of the port and at the mouth of the river Serpis, mixing fresh water with salt water, which helps sport fishing and diving. It is a small and quiet beach of fine sand surrounded by dunes with vegetation, protected from the waves and the north wind by the harbor wall.
Like all beaches, this one also has a series of characteristics that may make you choose this or other beaches.
Sandy beach.
Lifeguards.
Restaurants.
Bus.
Red Cross.
Footbaths and showers.
Parking.
👉 Rafalcaid Beach
Rafalcaid beach in Gandia is located south of the mouth of the river Serpis in an environment of old fishermen's huts. The accesses to the beach are marked by a line of small dunes flooded by Mediterranean vegetation.
Lifeguards.
Restaurants.
Fine sand beach.
Red cross.
Footbaths and showers.
Parking.
Activities at Rafalcaid beach
Level of occupancy: Medium
Recommended for surfing: ❌ No
Recommended for scuba diving?: ❌ No
Is it possible to rent umbrellas?: ❌ No
Is it possible to rent hammocks?: ❌ No
Rafalcaid facilities
Do you have toilets? ❌ No
Does it have showers? ✅ Yes
Does it have footbaths?: ❌ No
Coves Near Gandia
Gandia boasts some of the most enchanting beaches in the Mediterranean, but to experience a small and charming cove, we suggest visiting the neighboring province of Alicante. Here are the most notable coves near Gandia:
Cala Blanca: Located about 161 km (49 minutes) from Gandia, this cove is distinguished by its extensive golden sandy beach and clear waters, ideal for swimming and participating in water activities.
Cala de Moraira: Situated about 66 km (52 minutes) from Gandia, this cove is known for its elegant marina and attractive promenade, in addition to its sandy beaches and clear waters.
Cala de la Granadella: Approximately 67 km (59 minutes) from Gandia, this cove stands out for its impressive natural landscapes and crystal-clear waters, perfect for swimming and diving.
Cala del Portitxol: About 65 km (56 minutes) from Gandia, with a sandy beach and transparent waters, this cove is ideal for a day of rest and relaxation.
All these coves are a short drive from Gandia and offer a tranquil and natural environment to enjoy the sun and sea.
In our opinion, Cala de la Granadella is one of the best options near Gandia, with its beautiful white sandy beach, clear waters, and an impressive natural environment surrounded by pine trees.
Frequently Asked Questions by Tourists
We hope these answers are helpful to you. If you have any other questions, don't hesitate to ask them in the comments!
What is the length and width of Gandia Beach?
Gandia Beach is approximately 7 kilometers long and has an average width of around 60 meters.
Is there parking available near the beach?
Yes, there are several parking options near Gandia Beach, both on the street and in paid parking lots. It is advisable to arrive early on busier days to ensure a parking spot.
What is the water quality at Gandia Beach?
The water quality at Gandia Beach is generally good. The beach undergoes regular sanitary controls to ensure water quality and to guarantee the safety of bathers.
Are there lifeguards and lifesaving services at Gandia Beach?
Yes, at Gandia Beach you will find lifesaving and lifeguard services during the summer season. The lifeguards are trained to ensure the safety of bathers and to provide assistance in case of emergencies.
Does Gandia Beach have accessibility for people with reduced mobility?
Yes, Gandia Beach is accessible for people with reduced mobility. There are ramps and walkways that facilitate access to the beach, as well as amphibious chairs available for use.
Which is the best beach in Gandia?
The most recommended options are Nord Beach, located 150 meters from our hotel, and L'Ahuir Beach, just 450 meters from our establishment. The choice depends on your personal preferences. To give you an idea, Nord Beach is a 3 km urban beach that has a wide range of services, including beach bars, showers, and sunbed rentals. On the other hand, L'Ahuir Beach offers a more natural and pristine experience in its 2 km length, with no nearby constructions and not urbanized.