Buses and trains are the ideal transportation ✅ to get around Gandia, both inside and outside. Here you will find all the schedules, stops, and phone numbers to make your stay easier. Take advantage of it and avoid the stress of driving and not finding a parking space (in summer, it's almost impossible, and parking is very expensive). Since it's a small city, once you are in the city center, it's easy to explore on foot. We will show you the available alternatives ✔.
Buses
Private transportation companies' buses allow travel from Gandia to other Spanish cities. The buses 🚍 are located behind the Gandia train station. The bus companies' ticket offices are located there. In the front, you will find Gandia's public buses ✅. On one side, there is La Marina (yellow bus), which travels from Gandia to Playa de Gandia, and on the other side, there is l'Urbanet (green bus), which is responsible for traveling around Gandia.
Trains Gandia Valencia
RENFE commuter trains 🚆 with destination Valencia leave Gandía every 30 minutes. The Renfe station is located next to the bus station. When leaving, in front, you will see the stops of the Marina and l'Urbanet as well as the cab rank. In addition, the Grao de Gandía – Valencia route runs three times a day.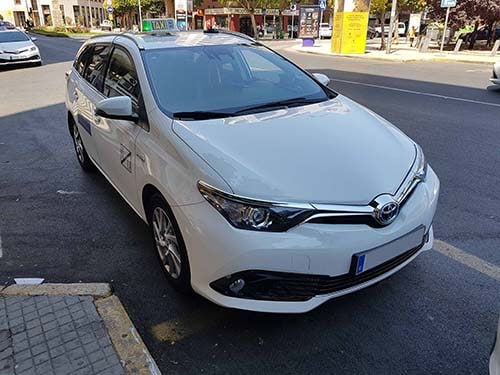 Taxi
Cabs are a way to move quickly around the city. With them apart from the speed of the service you can reach parts that you could not reach with the bus. With the help of Gandia Taxis 🚖 you can move comfortably from the train station to your hotel. For more information and contact numbers click on the button below!
Parking
Save time and find all the parking lots in the city of Gandía thanks to our parking map. Here you will find public and private (paying) parking lots in the city. These are located both in the center and on the outskirts of the city. You can leave your car 🚘 on the outskirts and move around Gandía on foot.
Acciona electric motorcycles
If you are a person committed to the environment 🌳 and you like motorcycles, you are in luck! Gandía has thought of all those lovers of electric motorcycles looking for cheap and low cost 🤑! The company Acciona with more than 200 scooters along the beach will provide you with transportation in a simple way.
Frequently asked questions about transportation in Gandía
Below, we answer some of the most frequently asked questions from users when looking for information about transportation in Gandía:
From our website we always try to promote sustainable and public transportation, that's why we will mention the advantages of this kind of transportation compared to private transportation. Remember that it is important to check the updated information about transportation in Gandia, since schedules, fares and services may be subject to change.